Getting indexed on Google and other search engines is one of the most effective ways of getting free traffic to your website. But you may be wondering:
How do I submit my website to search engines?
The short answer is: it depends on the search engine. The longer answer is that there are specific steps to follow for each. Here's what you'll learn in this article:
Table of Contents
Do I Need to Submit My Website to Search Engines?
Submitting Websites to Search Engines: Getting Started
How Do I Submit My Website to Google?
How Do I Submit My Website to Yahoo?
How Do I Submit My Website to Bing?
But first:
Do I Need to Submit My Website to Search Engines?
Yes and no.
Search engines were not designed to rely on manual submissions. It's just not efficient. That's why their bots crawl the web to find websites to index.
In case you haven't heard the term before: crawling is when search engines look for new links on websites and then "follow" these links. If a link leads to something useful (e.g. a useful website), that page is then indexed.
This means search engines are pretty good at finding new websites on their own, as long as they are linked to from somewhere on the web.
But with that being said…
Why You Should Submit Your Site to Search Engines
Here are a few reasons why you should manually submit your website to search engines:
Peace of mind – When it comes to SEO, it's better to be safe than sorry. For how quick manually submitting your site is, it's worth doing it.
Tell search engines about your site directly – Submitting your site via the methods below allows you to tell Google (and others) important information about your site, mostly about content updates and important changes.
It's an easy improvement opportunity – By submitting your site you get access to various tools that can help improve your website. In addition, you can inform them that the content is now been updated and requires to be crawled again.
Submitting Websites to Search Engines: Getting Started
Before you get started submitting your site to search engines, here are a few things you'll need. First, you'll need to be able to access and edit your website.
Backend access is not necessary to submit a website to search engines, but it may be helpful if you need to add things later down the line.
For example:
With access to a site, it makes being able to add them in a lot easier.
These are key requirements for getting a site indexed. In fact, having a correct setup sitemap is one of the most important things you can do to help your site get picked up by search engines.
Don't forget that having access to the two main search engines toolsets is needed too:
Google Search Console
Before submitting your website to Google, you'll need to set up Search Console and verify website ownership.
To verify your website, copy the DNS TXT record and add it to your domain name provider in order to verify domain ownership.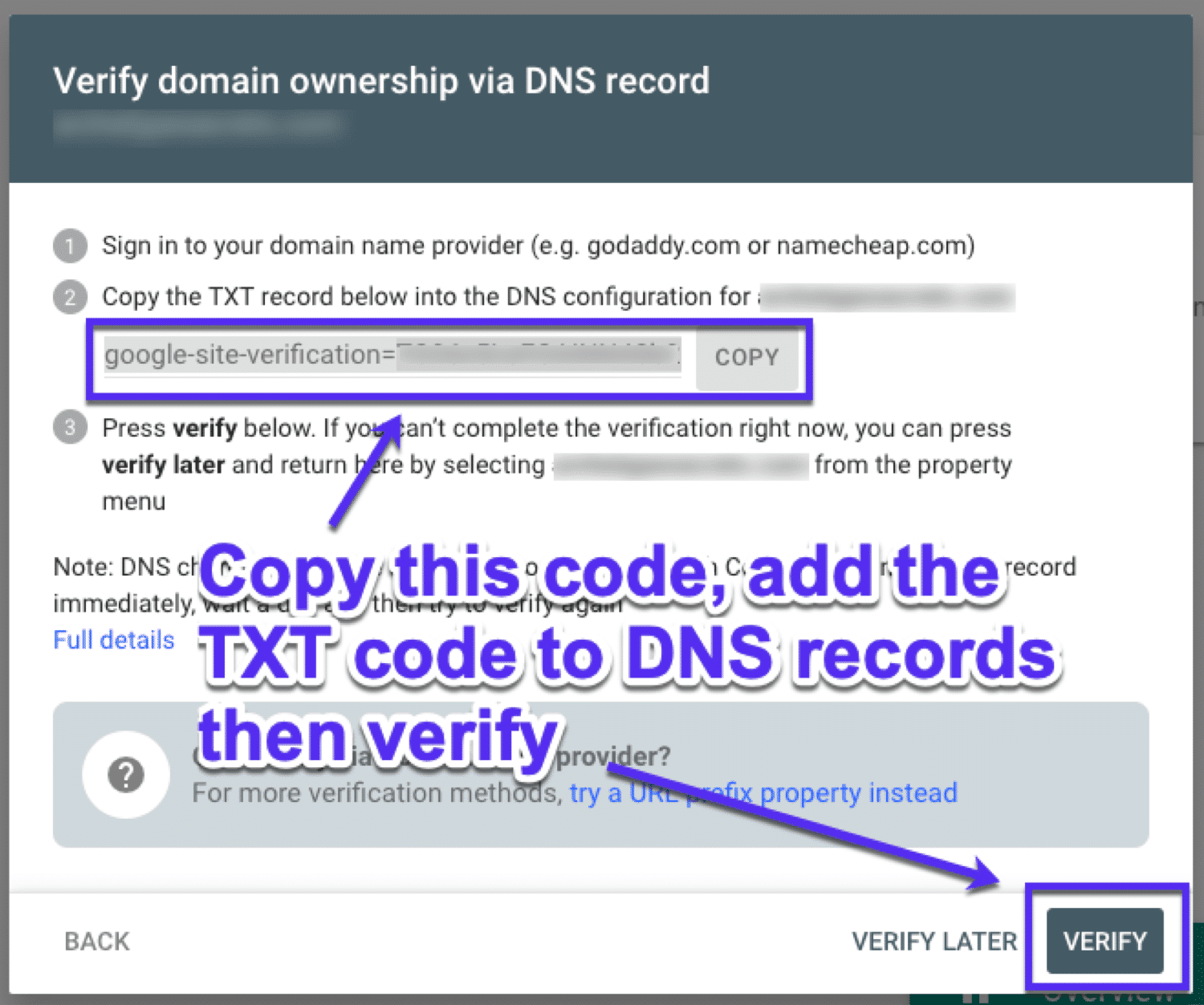 Verifying your site with the DNS record is the recommended method as you can leave the DNS record forever and it doesn't add extra code to your site.
If you don't want to (or can't) verify your domain this way don't worry, there are alternative ways to verify your account.
Bing Webmaster Tools
Bing makes setting up Webmaster Tools very easy. If you've got Search Console setup already, you can actually just import your sites.
Once you've signed up, just hit the Import button:

This is an easy way to get your site into Bing Webmaster Tools.
So now you've got everything you need setup, it's time to start submitting your site to all the major search engines.
Let's start with Google.
How Do I Submit My Website to Google?
It's pretty easy to submit websites to Google.
In fact, the only way to submit your website is by adding your sitemap to Google Search Console.
Here's how:
1. Locate Your XML Sitemap
A sitemap is an XML file that lists all the pages on a website.
It can usually be found by going to:
YOURWEBSITE.com/sitemap.xml
If you are using WordPress to power your site and are using the Yoast SEO plugin, your sitemap will look like this: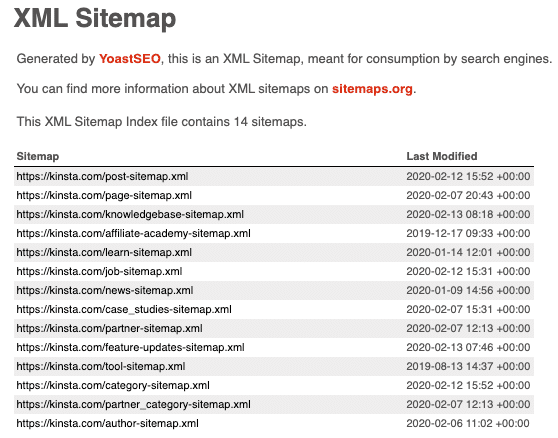 Once you've found your sitemap, you can move on to the next step:
2. Add Your Sitemap to Google Search Console
Open up Google Search Console and, under Index, select sitemaps.
Now, all you need to do is paste in your sitemap URL and hit submit:

If you have multiple sitemaps, just repeat this process until all your sitemaps are listed in the submitted section.
You will need to have added and verified your site to GSC in order to do this.
If you need more in-depth steps, we have a Search Console guide that will walk you through everything you need to know. Likewise, we also have this guide on how to submit a site to Google News if you want your site to appear there.
Quick Note About Submitting Your Site to Google News
Publishers no longer need to submit their site to be eligible for the Google News app and website. Specifically, according to Barry Adams:
Want to know how we increased our traffic over 1000%?
Join 20,000+ others who get our weekly newsletter with insider WordPress tips!Subscribe Now
Publishers are automatically considered for Top stories or the News tab of Search.
3. Submit a Page URL to Google
What if you just want to submit an individual page to Google though? This is pretty simple too.
In Search Console, go to URL inspection and paste in your page URL you want to index.
If the page isn't indexed, you'll see that GSC says 'URL is not on Google'. To get it crawled, just click on Request Indexing:

If the page is indexed, you'll see 'URL is on Google':
If you've recently updated content and want Google to recrawl the page, you can click on 'Request Indexing' to index those page changes.
How to Check If Your Page Is on Google?
To see if your site has been successfully submitted and indexed, just search your web address on Google. If Google has crawled and indexed your site, it will show up in the search results.
You can try copying a paragraph or two of text from your site and searching for that in "quotation marks". If your page is on Google, it should come up.
Another way you could use is the search operator command "site:" in Google. Just type:
site:www.YOURWEBSITE.com

Google will know only show results from the domain you've entered. You can use the site search operator on the homepage or internal pages of your site.
Tired of subpar level 1 WordPress hosting support without the answers? Try our world-class support team! Check out our plans
How Do I Submit My Website to Yahoo?
Ok so this is the easiest one. To get your website to show up on Yahoo… you submit your site to Bing.
Det var ingen felskrivning. Om du skickar in din webbplats till Bing skickas den automatiskt till Yahoo också.
Så du kan lika gärna gå till nästa avsnitt för att få din webbplats listad på Bing:
How Do I Submit My Website to Bing?
Först måste du gå till Bing Webmaster Tools. Du måste se till att du har konfigurerat det för din webbplats. Om du behöver hjälp, här är vårt praktiska Bing WMT guide.
Precis som Search Console är det enkelt att skicka in din webbplatskarta i Bing. Välj bara "Webbplatskartor" från menyn, klistra in webbadressen till din webbplatskarta och tryck på Skicka.

Detta kommer inte bara att skicka din webbplats till Bing, utan också till Yahoo (eftersom de båda drivs av Bings Index).
Bing URL Submissions Plugin
Om din webbplatsen drivs av WordPress, det finns ett enklare sätt för dig att skicka ditt innehåll till Bing med hjälp av deras Bing URL Submissions plugin.
Gratis att använda och lätt att aktivera, plugin kommer automatiskt att skicka ditt nya eller uppdaterade innehåll direkt till Bings sökindex efter att du har lagt till din API-nyckel:

Det finns några funktioner du kan leka med, till exempel:
Den automatiska inlämningsfunktionen kan du slå på och av, baserat på dina behov.
Manuell URL-inlämning.
Se senaste webbadresser som skickats in via plugin, som också kan laddas ner som en praktisk lista att hålla reda på.
Möjligheten att skicka in de senaste webbadresserna igen.
How Do I Submit My Website to DuckDuckGo?
Det korta svaret här är: det gör du inte.
DuckDuckGo indexerar webben automatiskt, så du behöver inte skicka in din webbplats manuellt till dem.
I själva verket använder den över 400 källor och Bings sökresultat, så om du har följt de föregående stegen för att skicka in till Bing (och Yahoo), gjorde du allt du behövde för att påskynda indexeringen av din webbplats på DuckDuckGo.
Avoid Submission Services
Att få din webbplats listad på Google, Bing eller Yahoo är gratis, så du bör inte betala en inlämningstjänst för att få dig listad.
Registrera dig för en sökmotor inlämningstjänst är meningslös. Och om du har otur kommer du att bombarderas med spammiga e-postmeddelanden som försöker sälja dina lågkvalitativa SEO-tjänster.
Sökmotorerna som betyder något ger användbara resurser för att hjälpa såväl som dokumenterade metoder för att få en webbplats skickad och framgångsrikt indexerad på Google, Yahoo och Bing ändå. Du behöver inga tjänster för att göra detta.
Ytterligare resurser för inlämning av sökmotorer
De flesta sökmotorer har specifika sätt att skicka in webbsidor till sitt index. Här är länkar till de officiella sidorna för att skicka in din webbplats till sökmotorer:
Kolla in den här videon nedan för att lära dig mer om hur du ökar din webbplatstrafik med SEO:
Sammanfattning
Google och andra sökmotorer kommer så småningom att kunna hitta din webbplats, även om du inte skickar in den till dem manuellt.
Ändå rekommenderas starkt att skicka in din webbplats med hjälp av en webbplatskarta och om du inte har en korrekt inställd är det värt att göra det. Varför? Det ger sökmotorerna ytterligare information om din webbplats, och i gengäld får du extra indexeringsdata om din webbplats (kanske t.o.m. webbplatslänkar).
Att skicka in en webbplats till sökmotorer har ett enormt värde för signalerar sökmotorer om innehållsuppdateringar och ändringar. Genom att tvinga fram en ny genomsökning kan du påskynda processen för att rangordna för dina nyligen tillagda sökord istället för de gamla, som inte längre är relevanta.
Som SEO är det ett ständigt föränderligt område, att få din webbplats och sidor indexerade är ett absolut minimum. Om du vill öka din trafik, det finns mycket mer som behöver göras (här är en SEO checklista till att börja med) men du är på rätt spår nu.
---
Spara tid, kostnader och maximera webbplatsens prestanda med:
Omedelbar hjälp från WordPress-värdexperter, 24/7.
Cloudflare Enterprise integration.
Global publikräckvidd med 29 datacenter över hela världen.
Optimering med vår inbyggda övervakning av applikationsprestanda.
Allt detta och mycket mer, i en plan utan långtidskontrakt, assisterade migrationer och en 30-dagars-pengarna-tillbaka-garanti. Check out our plans or prata med försäljningen för att hitta den plan som är rätt för dig.